THEELIPDOCTOR waist trainer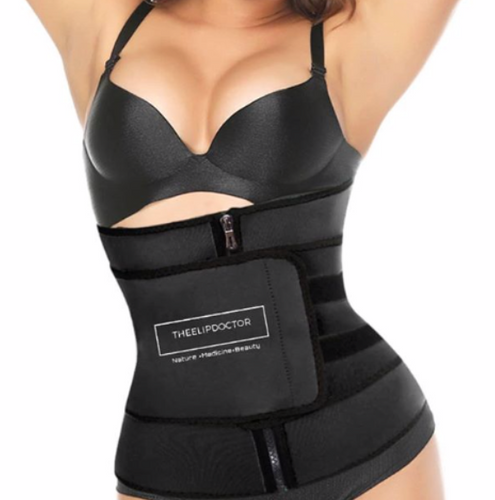 THEELIPDOCTOR waist trainer
WORKOUT SAUNA BELT - This waist trainer workout cincher with double belt and 9 steel bones can help reduce your waistline from 1 to 3 inches within 30 days. Thicken 2.6mm 100% neoprene accelerates weight loss through it's high compression and sauna effect that sweat a lot. It's a excellent waist shaper to recommend to the user who want to shaping waist, sculpt a slimming body. Helps flatten bumps & lumps, trimmer love handles and other waist fat problem. closure

NEOPRENE SWEATING FABRIC - Shell 100% Polyester and lining 100% Neoprene. Polyester is soft and moisture-wicking to close-fit your body. Neoprene is able to raise your core temperature quickly, make you SWEAT MORE than before in sports and any activities. So this waist trainer corset can help ENHANCE your WORKOUT, such as dead lifts or when lifting weights training, you will sweat more and burn flabby fat faster.

SCULPT A HOURGLASS WAIST - Steel bones is an important part of a waist cincher to support and shaping waist. The waist trainer full cover your waist and provide maximum firm control to your belly, it will gradually tight your belly and create an hourglass figure while your consistent wearing, and our recommended time for maximum results being up to 8 hours a day. Double waist trimmer belts for adjust the different levels of compression to your waist.

TRAINING BELT & IMPROVE POSTURE - We absolutely love the combination of waist training and cardio! Use while on a machine like treadmill, weight training or outdoor exercise. Assists in keeping your back straight and ensuring you hold your midsection tight. Due to the sturdy build of the waist cincher, it will naturally keep you in the correct posture when standing and sitting. This is extremely beneficial to ladies & men who have a desk job where they have to sit for long periods of time.

GREAT PARTNER TO YOU - Our waist cincher sauna belt is the best fitness equipment for all kinds of workout, such as gyms, basic yoga, running, battle ropes, lifts. Also, you can wear it under loose clothes for daily weight loss. Because some customer said they had shrunk some inches after some time wearing without doing any fitness. This is great for losing post pregnancy weight and reduce your postpartum tummy fat and muffin tops.